Dogs are expensive. Last year (2017) our vets bills were £29,600 and emergency boarding kennel costs were £64,300 – that's almost £7825 per month we have to fundraise before we even get started on other running costs and we do that thanks to the hard work of our team and supporters.  Unlike other rescues, none of our team (trustees included) are paid, we all work on a voluntary basis so every penny raised & donated goes directly towards the cost of rescuing our dogs.
Perhaps you could hold a car boot sale, a coffee morning, baking or even a bring and buy sale. What about a sponsored slim, swim, walk or cycle?
Or something a little more daring such as bungee jumping, abseiling or parachute jumping. How about shaving your head or wearing fancy dress to work – the list really is endless and every penny does count.
Donate on a regular basis by Direct Debit
Donate by Direct Debit using GoCardless
Want to give a different amount or at a different frequency? Please get in touch and we can arrange this for you.
Donate Directly
Just Giving
If you wish to donate directly please see our Justgiving page.
PayPal
Or you can donate to us via PayPal using the email fundraising@fourpawsanimalrescue.org.uk
Easy Fundraising
There's now a new and easy way for you to help us raise funds for Four Paws Animal Rescue (South Wales) – simply by shopping online! easyfundraising is a shopping directory that features some of your favourite online stores, including Amazon, Play, HMV and over 400 others. All you have to do is use the links on the easyfundraising site whenever you shop online and, at no extra cost to you, we'll receive a free donation of up to 15% from every purchase you make. All you need to do is visit http://www.easyfundraising.org.uk/fourpaws and when you register, select Four Paws Animal Rescue (South Wales) as the organisation you wish to support!
Ebay
If you sell items on eBay you can now nominate Four Paws Animal Rescue as your charity of choice and choose to donate between 10 and 100% of the total sale price. You can find out more about selling for charity here.
Amazon Wishlist
We have our very own wishlist on Amazon which contains items we are in need of. You can purchase items there for us and they will be sent directly to us to give to the animals!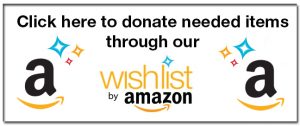 Amazon Smile
Donation items we will accept 
If you would rather donate items rather than money then please see the poster below!
If you wish to arrange sending items please use our contact form or send us a message on Facebook or Twitter (see header or footer of this page for links)